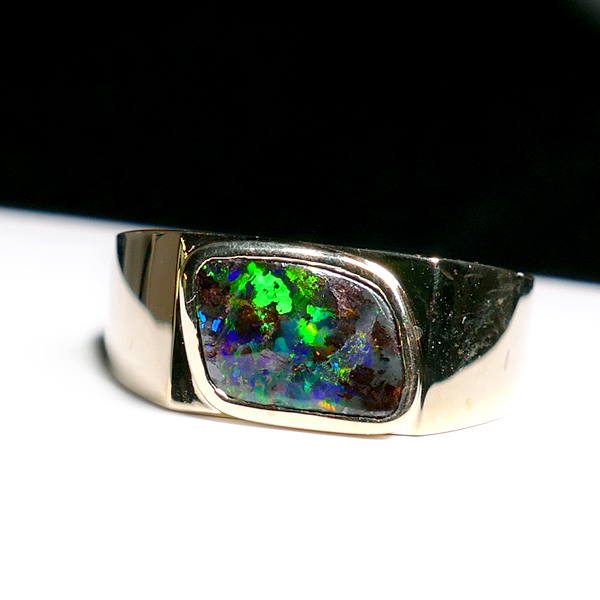 Queensland Boulder Opal Men's Ring in 9k Yellow Gold
Queensland Boulder Opal Men's Rings
When it comes to men's opal rings I will almost always recommend making the ring with a Queensland boulder opal. Working with Queensland boulder opal is my specialty and it is my favourite type of opal. It has all the beauty of a black opal with more durability (and affordability). If you are a man that works a lot with his hands or leads an active lifestyle that requires more of a hard-wearing piece then a Queensland boulder opal men's ring is the right choice for you.
Formation of Queensland Boulder Opal
Queensland is the only place on Earth where boulder opal can be found. It is truly unlike any other gemstone in the world. Boulder opal formed when silica solution (the chemical compound that hardens into opal) filled empty voids in ironstone boulders alone Queensland's western belt of opal fields. The unique way that the solution flowed and seeped into the boulders resulted in magnificent patterns that are not seen in other types of Australian opal. This is part of what makes it such a special stone for a men's opal ring. Every boulder opal is as one of a kind as the gentleman who wears it.
Queensland Boulder Opal Men's Ring in 9k Yellow Gold
Characteristics of Queensland Boulder Opal
In addition to eye-catching patterns, Queensland boulder opal is internationally renowned for its vivid colour-play. When we cut and polish boulder opal, it is left attached to its host ironstone. Because of the darkness of the opal's boulder backing, the fire in the stone is comparable in brightness to Lightning Ridge black opal. 
The combination of pattern and brightness makes for an incredible captivating aesthetic that is only elevated by the specks of ironstone mixed in with precious opal. Ironstone specks add a sense of masculinity to opal men's rings that wonderfully compliments the artistry and tastlefullness of a piece such as this.
As I mentioned earlier, the ironstone components of a Queensland boulder opal add an extra layer of protection to the gemstone that makes it more durable and hard-wearing than any other type of opal. The flatter surface of boulder opal also makes it less prone to damage when set into a men's opal ring. This makes boulder opal the best choice for the man who is looking to make an opal ring a part of his everyday life. He can relax knowing that his opal ring can be worn for any occasion or situation.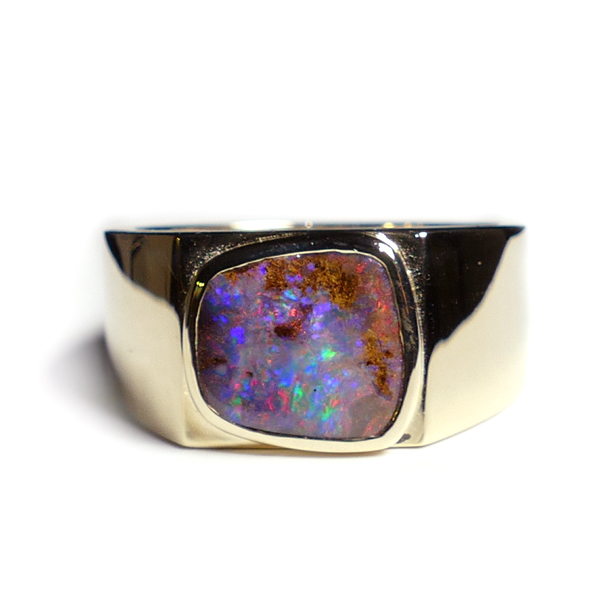 Queensland Boulder Opal Men's Ring in 9k Yellow Gold
Shop Queensland Boulder Opal Men's Rings
Something to keep in mind is that Queensland boulder opal is continually increasing in value, because the supply of boulder opal being mined is continually decreasing in supply. If you love the look of black opal but are conscious of making a smart investment, than Queensland boulder opal is perfect for your men's opal ring. Click here to shop 100% natural Australian boulder opal men's rings.